Thank you for visiting Ming Garden!
We have proudly served our customers great-tasting Chinese food in a friendly and casual atmosphere. Family owned and boasts one of the largest buffet selections in the area along with a full salad and desert bar.
In an effort to offer its customers the newest tastes and the most complete dining experience possible, Ming Garden brought the first Mongolian Grill to the area several years ago. Included in the buffet, and Mongolian Grill is now more popular than ever. It's a healthy choice which provides fresh meats and vegetables and have it cooked how you like.
Pick and choose your choice of unique sauces for that one-of-a-kind meal.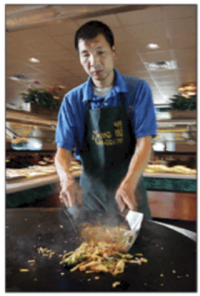 Diners can choose from a wide selection of entrees. There is definitely something for everyone on the buffet. Ming Garden is confident that on any given visit every one of its customers will find something to their liking.